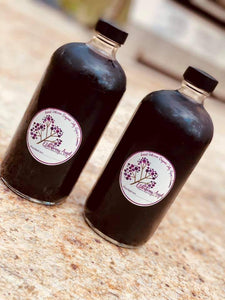 Mr. Elderberry developed this when he was training for The Woodlands Marathon. This product will work to replenish minerals and nutrients depleted during vigorous training by providing energy and calories to sustain you. Not only will it do that but as any consummate athlete knows, your immune system is put through the ringer while training so it harnesses the immune boosting and anti-inflammatory benefits given by our delicious, organic elderberry syrup. We've tested it out on a few willing guinea pigs, and they swear by it. 💯💪🏻🏃‍♀️🏃‍♀️🏃‍♀️ 
This product will be sold in 16-oz bottles for $30 and is the nutritional equivalent to 15 honey stinger gels. (IYKYK). 
The 16 oz bottle has: 
1500 calories
369 grams of carbs (sugars)
1800 mg sodium
1200 mg potassium
450 mg calcium
2.4 mg iron
Ingredients: Elderberry syrup, Pure maple syrup, Pink Himalayan salt.